How To Help?
Are you part of a student organizations, department, or business interested in making a contribution to the SOAR Food Pantry?  Below are a list of ways in which you can help us!
1)  Initiate donation drive in your organization or with your department on campus (See Toolkit below).
2) Make a tax-deductible monetary donation: Make check payable to: UCI Foundation and write SOAR Food Pantry in memo line
Include this Gift Form with your donation (Mailing address listed in the form).
3) Request an educational workshop
4) Host or collaborate with other organization on a fundraising event. For example, turn an existing event that you have into a fundraiser or a donation drive.
5) Inform students and staff that you work with regarding the service.  Here is an electronic copy of our flyers and brochures.
Donation Drive Toolkit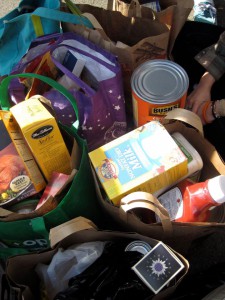 This includes information on how to create your own donation drive among friends, your organizations, or departments.
Step one: Determine the date or period of time that you want to have your donation drive.
Step two: Outreach for the event.
 Send out emails to friends, families, members, or potential collaborative partners.
Click here if you would like to include the list of items needed at the SOAR Food Pantry.
 Create a Facebook Event. Make announcements at events you attend or other organization meeting.
Call or email people to remind them of the drive the day before the drive.
*If you would like any sample emails, scripts, or event raps, please email Andrea Gutierrez at andrea.g@uci.edu to request it for your drive.
Step Three: Logistics
Secure a box or bin to collect the donation.  Call the SOAR Food Pantry staff at 949-824-7529 or email andrea.g@uci.edu to acquire one and schedule a donation pick up if you need it.
If you want to drop off the bin, please drop it off in our office at 106 Gateway Study Center located on the 1st floor of the Gateway Building (facing Aldrich Park).
***If you would like sample donation letters or additional assistance in initiating a donation drive, please contact Andrea Gutierrez at andrea.g@uci.edu